The Faculty of Economics Center for International Affairs (ECIA) assists current full degree students under the Faculty of Economics with the opportunity to study abroad for one or two consecutive semesters. Students interested to go on an exchange program with our partner universities are required to maintain their student status at Kasetsart University. Academic credits earned at a host institution may be transferred back and counted toward their degrees.
If you are planning to apply for an exchange semester, affiliated degree programs, summer schools or internships with our partner institutions, please feel free to contact us.
EXCHANGE PROGRAMS AND AFFILIATED DEGREE PROGRAMS
Undergraduate and Master's students under the Faculty of Economics are encouraged to go on exchange programs with our partner universities. Dual-degree programs and progressions are also available.
PARTNER UNIVERSITIES
The list of our partner institutions are available here. Take your time to research and go through the information provided on our partner universities' websites (especially the courses offered in English) and find the program that fits best with your academic and personal interests. Make an appointment to visit the ECIA office or contact Ms. Wanida Kammani via email at wanida.kmn@gmail.com for more information about our partner universities.
ELIGIBILITY
Students eligible to apply for exchange program must:
be 3rd or 4th year undergraduate student with a GPA of at least 2.50 (some host universities require higher GPA criteria)
have taken an English proficiency exam (most partner universities will require at least an IELTS score of 6.0 – 6.5)
fulfill the admission requirements as set by the host institution
assume the cost of travel, housing, health insurance and all other expenses related to your stay
For more information on how to apply as an exchange student, click here.
SCHOLARSHIP OPPORTUNITIES
The application period for the Capacity Building Scholarship is now open until November 9, 2022.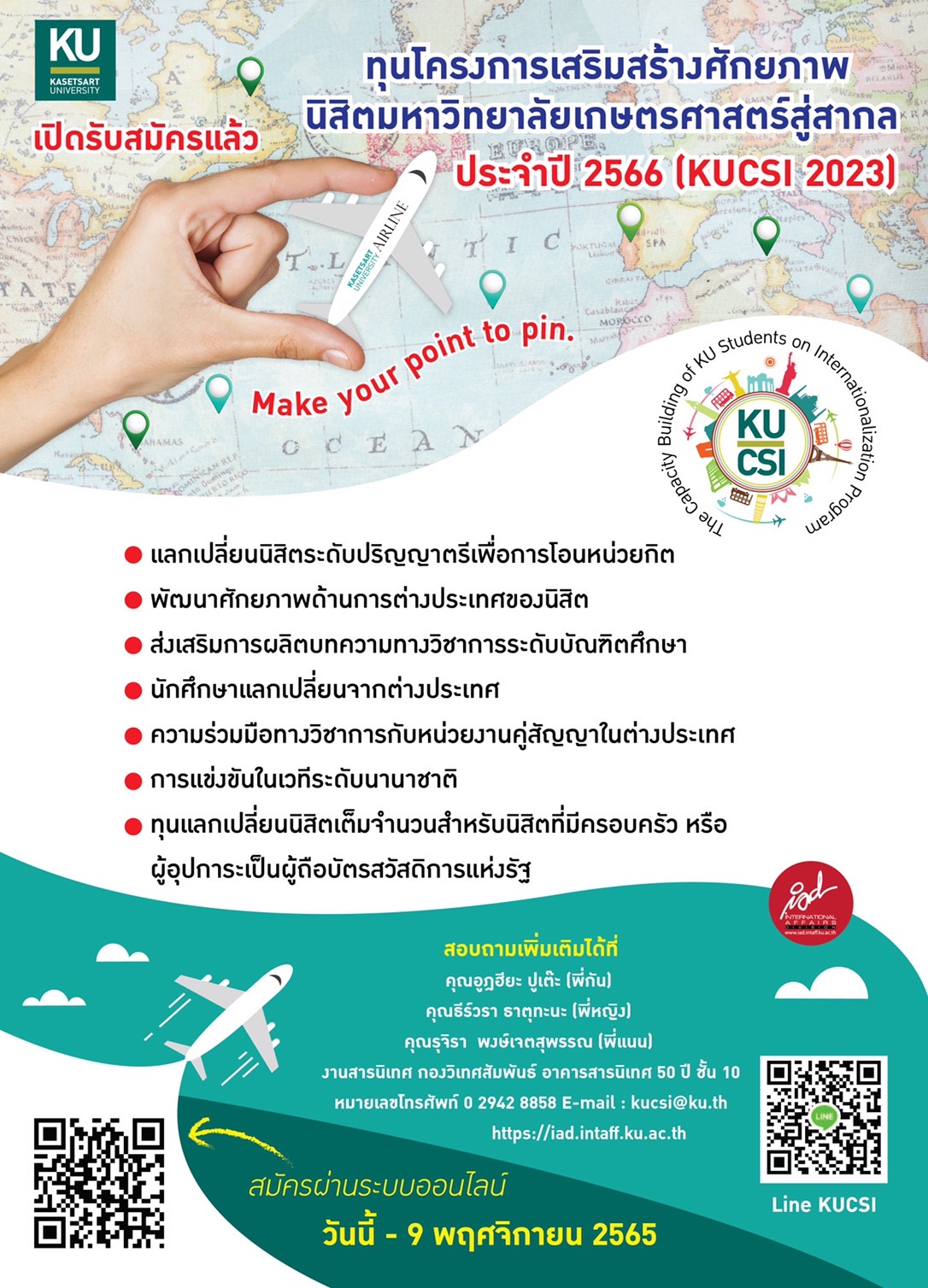 KUCSI 2023 – The Capacity Building of KU Students on Internationalization Program 50/50 Scholarship
For more details: IAD.KU – International Affairs Division, Kasetsart University – KUCSI Page
---
Note: Interested students should make themselves fully informed when deciding to go on an exchange program. You should prepare long in advance and make certain of your eligibility and the requirements. When choosing your preferred semester for exchange, note that university and academic calendars, course credits, and grading systems vary from country to country.
---
Contact Information
Ms. Wanida Kammani
Foreign Relations Officer and Exchange Program Coordinator
wanida.kmn@gmail.com
Office is open Monday to Friday from 8:30am – 4:30 pm (except on public holidays)