2023 Global Academy Summer Camp at Chengdu, China
Categories

News

Date

04 July 2023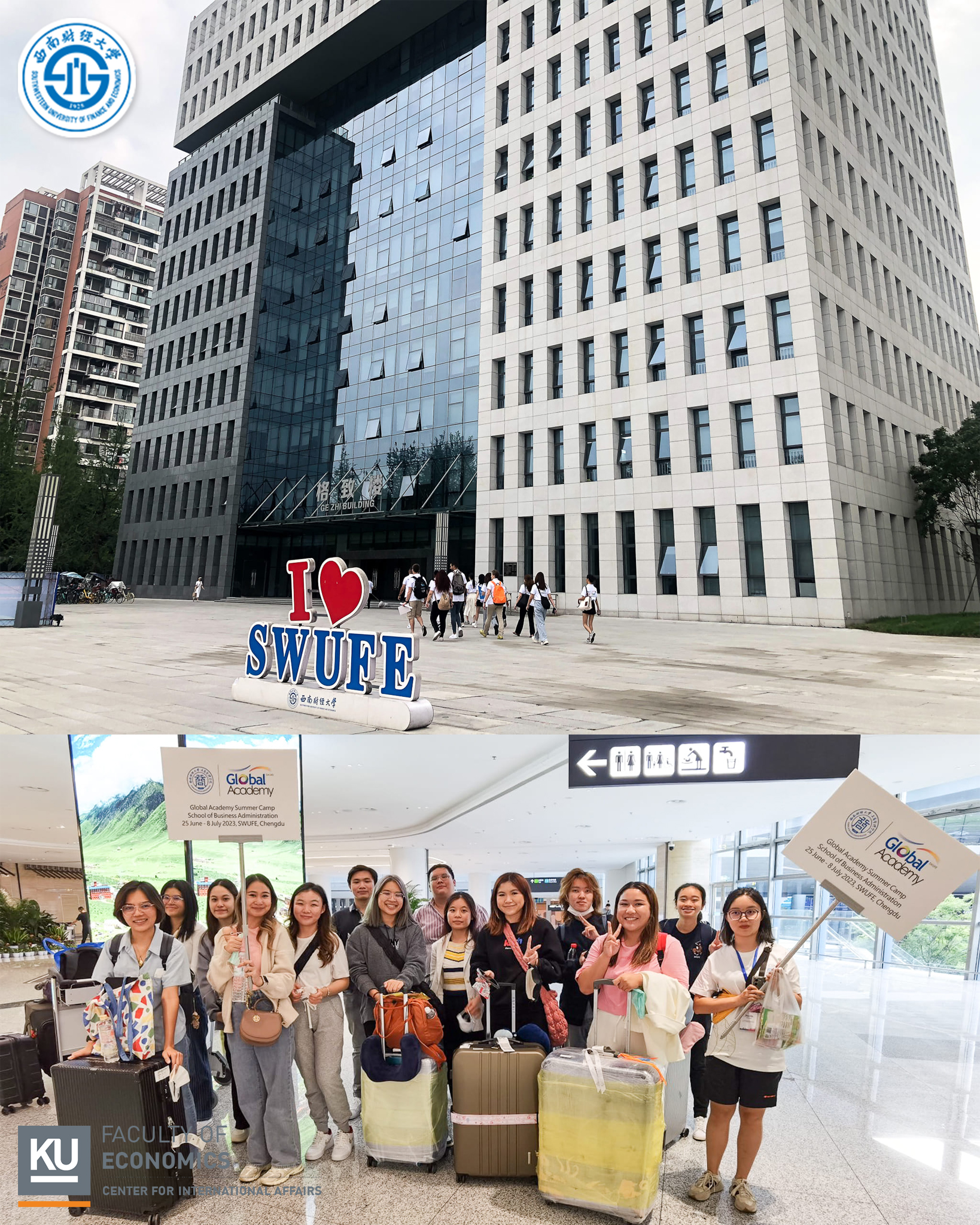 As SWUFE's partner university, the representative from the Faculty of Economics Center for International Affairs (ECIA) and a group of 12 ECON students, comprising 2 EEBA students; 5 BEcon students; 5 students from the Department of Agricultural and Resource Economics, are invited to join the 2023 Global Academy Summer Camp organized by School of Business Administration (SBA), Southwestern University of Finance and Economics (SWUFE) in Chengdu, People's Republic of China during 25 June to 8 July 2023 with the support for 2-week costs of tuition, accommodation, meals, lectures, company visits and tours.
On this occasion, Ms. Chinnatthee Kaewkongnok, the representative from ECIA, presents a token of appreciation to Professor Mingfeng Tang, the Associate Dean for International Affairs of the School of Business Administration at the opening ceremony.
The 2023 Global Academy Summer Camp is a 2-week summer program including 8 academic lectures, 4 cultural lectures, 2 company visits and 3 guided tours. Participated students will be awarded 2 credits and received official certificate at the end of the program. In particular, this summer camp has attracted participation from more than 10 universities worldwide.
The Southwestern University of Finance and Economics (SWUFE) is one of the only 4 national university under direct administration of Ministry of Education in Sichuan. The university ranked 501-600th in 2023 by Times Higher Education World University Rankings and 142nd in Best Universities for Economics and Business by US News and World Report 2021.
To see more of the ECON's partners, please visit ECIA website or consult us to seek for your own experiences abroad.
Email: ecia@ku.th