ASEM Work Placement Programme 2019
Categories

News

Date

27 January 2019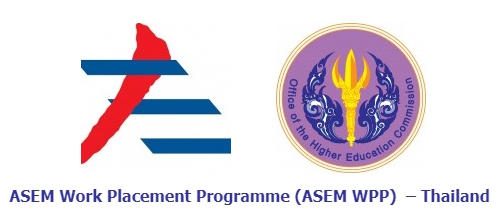 For Outgoing Interns from Thailand to Europe (Belgium and Germany)
Application Deadline (at ECIA Office): Apr 19, 2019 (Tentative)
Interview Selection (by ECIA Office): Apr 22-24, 2019 (Tentative)
Announcement of Interview Results (at ECIA Office): Apr 29, 2019 (Tentative)
Before Apply:
Consult with your Advisor and ECIA Office
Study the guideline/information of the countries you are interested to do an internship at
Belgium

https://www.student.be/en/internships
http://www.monstage.be/index.php/CurrentLanguage/3

Germany

http://www.hs-karlsruhe.de/asem-wpp/incoming/
List of ZAV-Companies
Basic qualifications of the candidates:
Being an undergraduate (3rd year and above) or master (2nd year) student in Thai HEIs,
Having Thai nationality,
Obtaining at least 2.5 GPA for undergraduate students and 3.0 GPA for master students,
Having good English proficiency (Having knowledge of European languages such as German, Dutch or French is a plus, but not priority)
Having the ability of problem-solving, adaptation to different social and cultural environments and having the public mind,
Being able to join the programme throughout the whole period,
Committing to submit a report showing their internship and intercultural experiences for publicising and promoting to the next year candidates. (Students submit the report to their home institutions within 30 days upon completion of the internship; the institutions subsequently submit to OHEC.)
Other qualifications according to their home institutions' needs.
Benefits and their responsibilities:
OHEC supports the successful candidates doing their internships in Europe (Belgium and Germany) with a lump-sum payment in the amount of 60,000 THB via their home institutions.
The successful candidates (and/or their home institutions) are responsible for other expenses such as passport, visa, accident and health insurances, accommodation, meals, travel expenses in the countries etc. (The workplaces in Europe that accept the interns may support some remuneration, but not a commitment)
For Related documents/templates and Related information, please visit ASEM Work Placement Programme : BICS
[Ref: ASEMWPP-ECIA2019011815300046]