2019 International Summer School @ SWUFE, CHINA
Categories

News

Date

26 January 2019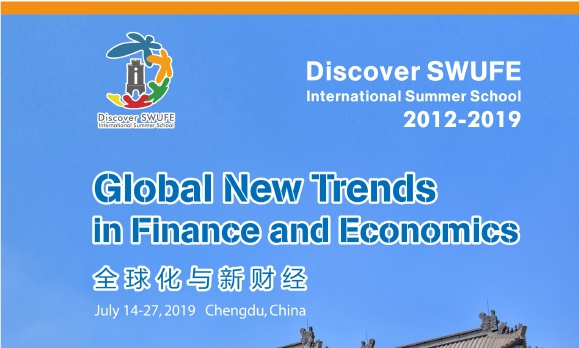 Duration of Study: 14 – 27 July, 2019
Place: Southwestern University of Finance & Economics, Chengdu, China
Themes: Global New Trends in Finance and Economics
Please note:
Two fee-waived places to each partner university of SWUFE
List of nominates by March 31, 2019
Apporved of KU Economics student must be Completed Online Application process at http://admission.swufe.edu.cn/member/login.do by April 30, 2019
General Information
For more information such as Brochure, Online Application Guideline and Syllabus please visit Discover SWUFE International Summer School
Before Apply, please contact ECIA Office for Applying procedure
In 2019 a targeted program of focused academic content will be complementing the rich cultural exchange experiences. Students will be evaluated and certificated based on their contributions and performance within the academic, helping recognize the importance of the academic exchange within their personal academic development.
Why to join the Discover SWUFE International Summer School?
An opportunity to visit Chengdu, one of China's most rapidly expanding cities and host for the Summer School;
A comprehensive 2-week program immersing students in business education in China context with corporate experience;
A variety of curricular and cultural activities featuring lectures, workshop, company visits, sightseeing, cultural night and social events;
A diverse student body of the brightest young talents from the leading universities across continents;
A Certificate from SWUFE and 2 credits to serve as a permanent record for your academic achievements and active engagement during this memorable experience.
[Ref: ISSSWUFE-EMAIL201901251457]