New things to learn and explore!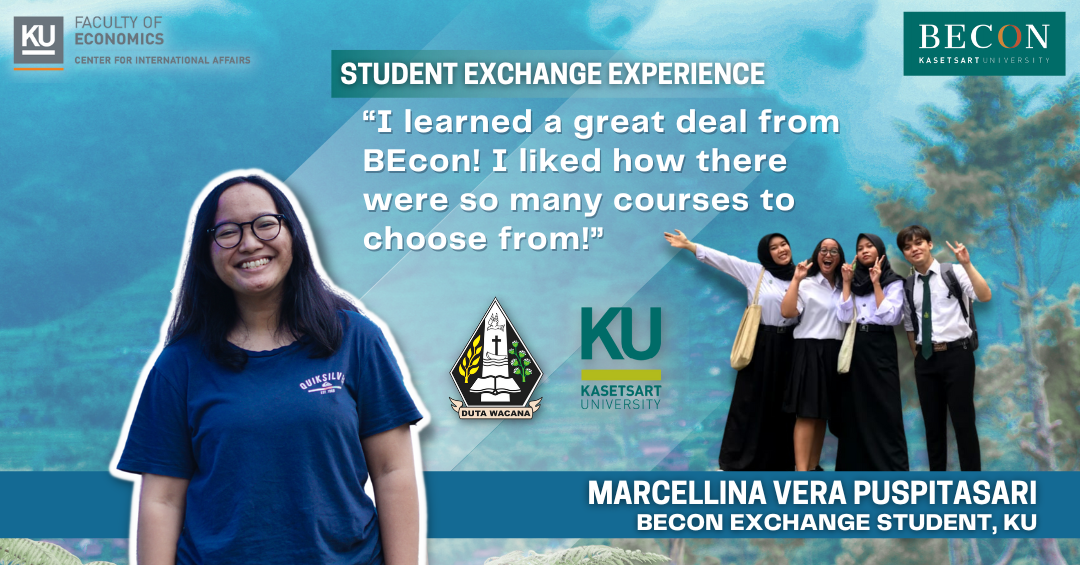 Marcellina Vera Puspitasari was a BEcon exchange student during the 2nd semester of the academic year 2021-2022. She is from Duta Wacana Christian University in Indonesia and was one of the students awarded with the KUOSSPAS ("One Semester Scholarship Program for ASEAN Students") scholarship in celebration of the 80th year of Kasetsart University for an exchange semester.
---
I chose Thailand because it's quite similar to Indonesia as it's still in Asia, so I thought it wouldn't be too hard for me to adapt to living here for a while. I saw that there was a good opportunity available at KU and so I tried applying for this exchange program. I liked the courses provided in BEcon because they have a lot of international courses to choose from. The 'Ajarns' (meaning 'professors' in Thai) also liked to talk and discuss the newest issues, so I think I can say that the students will be all set and ready for the real world when they graduate.
Studying here, the thing I liked the most was the way the 'Ajarns' uses their time productively–they make use of the ENTIRE class period, that sometimes, although I feel tired, it still feels really motivating at the same time and there were a lot of new things to learn.
They were also updated with the issues nowadays, which are connected with the subject courses. They gave us materials, articles, and journals which were really helpful and they were all so nice and friendly, so I really enjoy studying here, and the semester felt too short for me!
Life in Thailand, especially in Bangkok, wasn't really difficult for me because it's kind of similar to Indonesia. The most favorite part about living in Thailand was that I can find and eat pork so easily. I really like it and you can find it anywhere here! It's hard to find pork in Indonesia so I really enjoyed trying many of their foods here. 
The hard part was about the Thai people's capability to speak English. Some of them can't speak English at all, so it was hard for me to understand what they mean. Overall, I still enjoyed living in Thailand. The people were so kind and I liked the way they greet one another by bowing their heads and putting their hands together, the 'Sawasdee' greeting. 
I also really liked the transportation system. User-friendly apps were easily available for information about BTS, MRT, buses and so on.
I will recommend to my friends to choose Thailand for their exchange program as well. Even though Thailand is still Asia, they have a unique and different culture from Indonesia. For the program that I joined, which was the KUOSSPAS scholarship program, it was great! It's a nice opportunity to study abroad here. I hope this program will open for more years to come!