"From HZ University of Applied Sciences, The Netherlands to KU, Faculty of Economics as an EEBA exchange student"
My name is Omar, I'm a Syrian-Dutch student coming from the Netherlands. My major is International Business and part of our studies is the possibility to do an exchange semester in a partner university abroad.
Why did you choose to study in KU?
Honestly, I've just rolled the dice coming to Bangkok. I wanted to experience the Asian culture, and Bangkok seemed the most convenient in terms of daily living expenses.
I had multiple choices of universities to pick from, however, I have done some research about Kasetsart University and I found it very intriguing and exciting, so I decided to apply. It's because it was very different from where I come from. My home university (HZ University of Applied Sciences) hosts around 5000 students, while in KU that number of students could amount to only one faculty. In addition to that, KU is one of the top universities in Thailand, with a lot of recommendations from the previous exchange students who studied here before.
Studying at the Faculty of Economics was also very interesting for me as a business student, even if most of my classes were online due to the pandemic. I did have some on-site classes, and my first impression was "wow" when I saw the faculty building. It was very "green" and it was big and spacious. The staff were very helpful and they guided me to my classroom. Most of the people you meet on campus would be happy to walk with you and guide you to your faculty as it is very easy to get lost.
The courses were super engaging as well, such as Wealth Management, Finance, and Marketing. Also, some of the projects we had to do were fun. One of which I enjoyed was when we had to come up with a business plan with my assigned group and present our report to the professor.
The learning activities at the faculty included a lot of group projects. Foreigners are often put with Thai students, and they were very kind to us. Sometimes, it's a very different teaching style from our home country but I, personally, have not faced any difficulties during my studies. The professors spoke English very well and they were clear whenever they're explaining something.
My life in Thailand…
Thailand has one of the most delicious local foods ever. From Pad Thai to fried rice chicken, it's one of the main reasons I moved to Asia. I really wanted to try different kinds of food, and the Thai food has a very unique taste, the ingredients are different from anything I had back home.
Also, in Thailand, barely anyone ever cooks, because the price of eating outside or delivery is extremely cheap, sometimes it's even cheaper than cooking. However, if you really want to cook, there's always a 7-11 at every corner and there are big supermarkets that sell imported products. I highly recommend you to come out of your comfort zone and adapt to the local food here.
Besides food, my friends and I are really going to miss the smoothies. The fruits in Thailand are always fresh and tasty, so smoothies are very common here.
Being all away from family and friends can be overwhelming, however, the number one rule that you need to remember is that you're the only one who feels that way. Everyone here is friendly and it's very easy to make new friends with other international friends as well because they feel the same way.
The key to a very enjoyable social life in Thailand is to choose the right accommodation. For us, it was TPY5, where all the international students lived. The landlord was very forgiving and did not really have any strict rules. My advice is to speak with a group of international students beforehand and plan where you guys want to stay.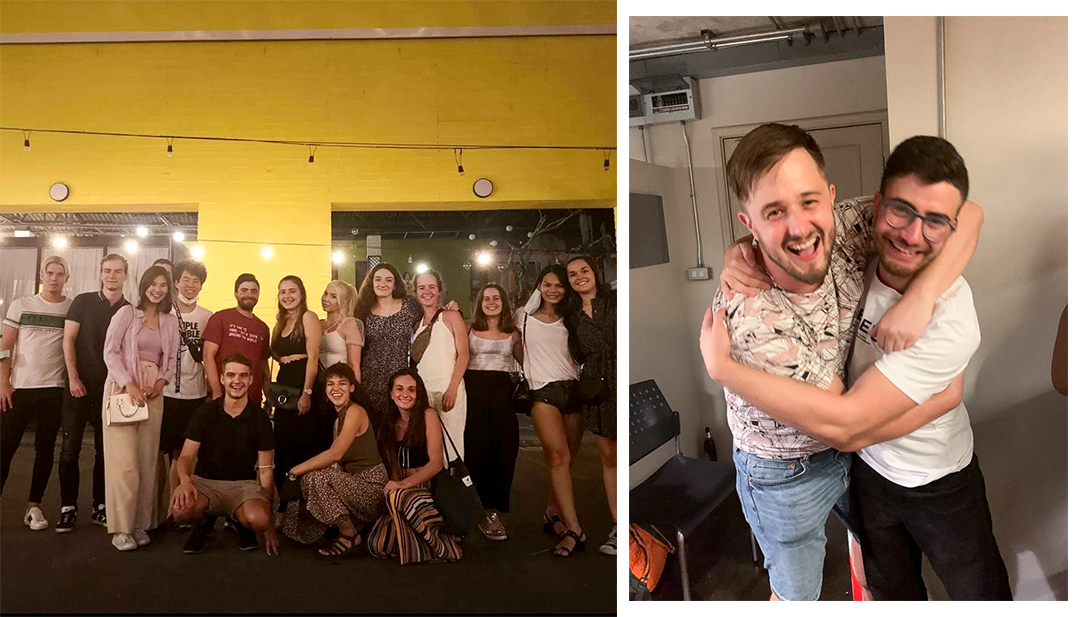 It's also very easy to make friends with locals. Thai people are very friendly and they are always willing to help when they see a lost foreigner. They're usually shy to speak English at first, but then, once they're comfortable, you can find out that they can be really talkative too!
It was very different here!
Personally, it's not my first time living outside my country, however Thailand has been one of the most different places I ever experienced being in. At the beginning, I had some problems with adapting to spicy food, but then I found out that you can simply tell the restaurant that you don't want spices and they won't put any.
Besides the food, the second problem I had was the hot weather. For us in the Netherlands, the hot weather only lasts from one to two weeks during the summer. However, here in Thailand it's always over 30 degrees Celsius and the air conditioner has been my best friend ever since my arrival.
I'd like to remind you of…
Some of rules that you need to know while living in Thailand:
Avoid the traffic jam at 8:00 in the morning and 5:00 in the afternoon, it can be crazy sometimes.

Alcoholic beverages are not sold at the supermarkets from 1pm until 5pm.

Always respect the King and the royal family.

It's very important to also respect the culture and tradition as Buddhism is the main religion in Thailand.

If you are planning to visit a temple, dress accordingly (no tank tops, no shorts, no short t-shirts etc.)

Same dress codes apply for visiting the immigration office for services, such as the visa extension.
If you are coming from abroad, then you probably want to experience the nightlife. The nightlife in Thailand is known to be one of the most elite places in the world. Partying on an island with locals, or partying in Bangkok, it all feels straight out of a Tokyo drift movie!
Travelling around the country is also a must. It's very cheap, and there are a lot of places that are nice to visit. My friends and I have always traveled together in big groups. But, it's always possible to travel alone or with a small group of people, which would be nice if you're looking to do some soul searching.
Accommodation
The cost of accommodation can range from 130€~300€ per month. I personally paid 240€ and my accommodation included a big room with a personal bathroom. We also had a private pool and gym in the common area of the building, which felt luxurious.

Food
As for food, it can be quite expensive if you don't adapt to the food offered by locals, however, if you eat Thai dishes which are very delicious, expect to pay around 4~5€ per day for 3 big dishes. I know some people who spent, on average, 3€ per day on food and they were quite happy!
Sim card
Sim cards can be as cheap as 10€ with internet packages included, and 30€ for unlimited internet.
Transportation
Sky Train is free most of the time, and if you're traveling more than 4 stops, you have to pay around 0.10€~2€, it depends on how far you go.
Taxis are also super cheap, if you go with friends anywhere near the capital, it will not cost you more than 2€ per person.
Motorbike rentals are around 3€ per day. If you know how to drive a motorbike and you have a license, I highly recommend renting one when you are traveling outside Bangkok, as it'll save you quite a lot of money.
Domestic airplane tickets cost around 15€~70€, it depends on where you go, but personally, I never had to pay more than 50€ for a flight.
Shopping
Locally produced clothes can range from 3€~7€ per piece. I know some friends who bought a whole closet of clothes and were changing outfits every day just because it was very affordable.
Finally, the school did not require us to buy anything besides the uniform, which cost around 20~30€, and it looks quite nice.
I'm an exchange student but I still got to travel around the country at the same time!
Kanchanaburi
Kanchanaburi was one of the most unique experiences of my life. My group of friends and I have rented a floating lake house and we spent the whole day including the night cooking, swimming, talking and partying. Besides that, we have done some activities that were offered by the locals. The craziest thing about this experience is that there was a floating supermarket in the water and a floating restaurant just going around serving people on the huge lake.
We have also visited Erwin waterfalls, and it was so beautiful! There, we swam with the fishes, hiked to the top of the waterfall and fully experienced nature. We also visited Wat Tham Sua Temple, it was a very long walk until you reached the top of the temple, however, it was worth it for the things you see at the top of the stairs.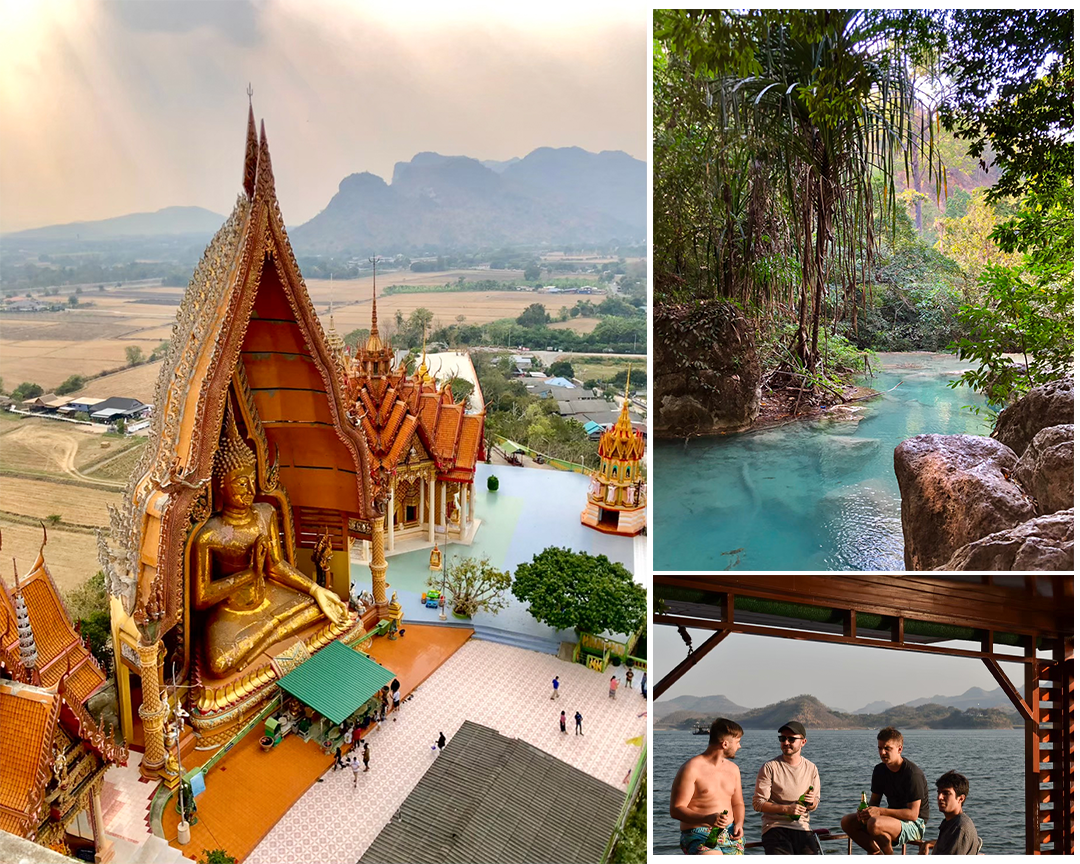 Phuket
Phuket is probably known worldwide for it's crazy nightlife, but the island has much more to offer than only nightlife fun. At Phuket, we were given the opportunity to chill at the nice beaches, watch a lot of cool sunsets, ride jet skis, meet new people (in Thailand, wherever you go, you're going to end up making new friends), and stay at a luxury hotels for very cheap prices.
Phi-Phi Island
Phi-Phi Island was a favorite of mine. It's a very nice place with beautiful beaches and crystal clear water. The food on the island was also incredibly delicious. I also highly recommend this place if you're into kayaking with friends! You could sail to the "Monkey Beach" or go island hopping. A day trip with a boat, paddling and snorkeling in the water are also great ideas!
Koh Samui
When the Covid-19 situation got worse in Bangkok, my friends and I decided to move to an island and spend the rest of our stay there since classes and exams were online. It was no problem for us and we were able to rent a villa with a nice beach view. Koh Samui was a bit more expensive compared to other places in Thailand, however, it's nothing when compared to prices in European Capital cities. The sea waves there are quite big, so It's also possible to surf at certain locations.

Language Barrier
Most of Thai people in Bangkok do not speak English. However, it's very easy to communicate with them, as they try to put their best effort into gestures and body language. In the islands, most of the people speak English, so you'll never get lost when you are traveling around. Overall, Thai people are so friendly, also, do not be surprised when the customer service communicates with you using LINE emojis!
Summary
My overall experience in Thailand has been a very positive one! I have learned a lot of new things at school and I travelled all around the country. I met a lot of cool people and ate a lot of delicious meals. I've also done things that I have been wanting to do for a long time in my life. If you are reading this and thinking whether you should do an exchange semester or not, my answer for you is, DO IT!